Our daily life and face masks have now become inseparable, as the world has been gripped by the COVID-19 pandemic for about a year now.
We may remember that earlier in 2020 – around the time when Indonesia announced its first COVID-19 cases in March – surgical face masks were difficult to find, and companies as well as individuals started to make cloth face masks to cater to the sudden spike in demand.
In a relatively short time, cloth face masks became hot items in marketplaces, while surgical face masks gradually filled the shelves whether in online or offline stores.
The Jakarta Post reported that the COVID-19 pandemic had changed the fashion industry by putting face masks under the global limelight.
Face masks were said to have become a fashion statement that revealed the personality, interests and even identity of those who wore them.
The Post also cited an online survey conducted by Statistics Indonesia (BPS) from Sept. 7 to 14, in which 92 percent of 90,967 respondents across Indonesia said they wore masks in public.
Face masks being sought-after items was also acknowledged by illustrator and artist Winarti Handayani, the founder of Kamalika Artprints, which produces hand-drawn illustrations printed on cards, wall art, bags, totes and pouches.
During a video call in mid-December, Winarti told the Post that she had no idea that face masks would become so "in fashion."
"People were seemingly very much after [face masks], [like] maybe they have 30 items of clothing, and […] they want to have masks to match all their clothes, so they were buying masks like crazy. [Previously], I didn't see that coming," said Winarti.
She went on to say that up until today, Kamalika Artprints was still producing masks, because at a price of Rp 30,000 (US$2.11), people found them affordable.
"There are always people buying masks every day. [Masks] are among the best-selling items on Tokopedia," Winarti says, referring to the technology company Tokopedia.
Starting her Kamalika Artprints store on Tokopedia in late April, Winarti said that shortly after the launch, she offered masks, and the customers' positive response was much beyond her expectation. She and her team felt overwhelmed with the number of masks they had to produce, especially because she was only employing a small in-house team.
A pre-order system was therefore put in place, and the store accommodated only the number of masks that the team was capable of producing.
"But people complained, because within just minutes, the pre-order slots for around 200 pieces were full," Winarti recalled.
Eventually, she decided to open the pre-ordering for 24 hours and see how many orders came in, and think later about how she would complete all the orders. She offered three designs at that time, and ended up with a total of 750 transactions in one day.
Winarti originally employed four seamstresses, but because of the high demand for masks, she searched for freelance seamstresses in her circle of employees and neighbors. She now has six work units that are especially handling masks, while her employees take care of the orders for bags and pouches.
"I also hire new employees for admin positions that take care of orders received through Tokopedia," she added.
Through Tokopedia, Winarti said sales were now soaring, even higher than before the pandemic. Her store on Tokopedia can generate around Rp 180 million to Rp 200 million per month. This is a drastic increase compared to the pre-pandemic period. Back then, the average sales from each of its offline stores only amounted to around Rp 50 – 60 million per month.
Face masks being sought-after items was acknowledged by illustrator and artist Winarti Handayani, the founder of Kamalika Artprints, which produces hand-drawn illustrations printed on cards, wall art, bags, totes and pouches. (Courtesy of Tokopedia/.)
After face mask craze, comes Christmas
Kamalika Artprints experienced the highest demand for masks in June, but is still selling masks every day. Apart from the masks, the best-selling items include tote bags and pouches.
Back in the early days of Kamalika Artprints, only goods made of paper such as cards and printed artworks were offered. The goods were sold at pop-up bazaars organized by expatriates, mostly American and Australian women.
Initially, Winarti only sold the stationery, but then she thought that most Indonesians were not so much into writing. She had the idea to make wearable items such as bags, so as of 2013, she started making bags to lure Indonesian customers.
"Now I make more bags and pouches than printed goods and cards. But when Christmas is coming, many people buy cards," says Winarti, adding that customers also buy paper bags, gift boxes and gift wrapping paper.
"And, during Christmas [season], we also have a lot of home products, such as pillow cases and table runners," Winarti explained.
She also said that since Kamalika Artprints was first established in 2011, it had always rolled out new seasonal Christmas collections every year. However, Winarti is not offering a new Christmas collection this year as she is selling out all that is left from some previous holiday seasons.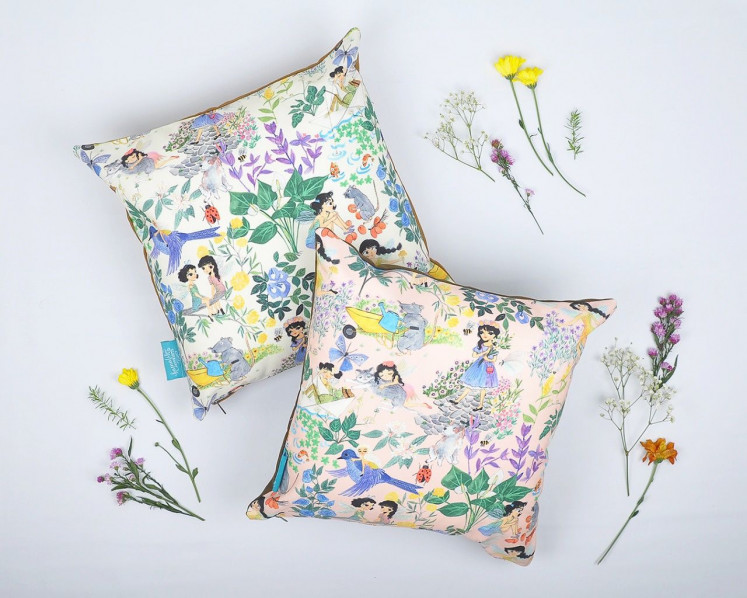 During Christmas season, Kamalika Artprints has a lot of home products, such as pillow cases and table runners. (Courtesy of Tokopedia/.)
The joy of running online and offline stores side by side
Even long before the pandemic, owning two outlets in Jakarta and another two in Bali, Winarti had always wanted to have an online store.
She noticed that selling through digital platforms allowed people to run the shop from anywhere, not to mention that it spared them from paying rent. But Winarti – who is in her early 40s – felt that having an online store was more for those of the younger generation.
Kamalika Artprints has also had a webstore since 2014, but Winarti admitted she did not know how to lure people to shop at the webstore. The brand then tried an e-commerce platform but Winarti felt that Kamalika Artprints did not go along well with that particular platform.
This April she eventually encountered Tokopedia, more confident with a learning curve that she had gained from previous experiences with the webstore and other e-commerce platforms.
"But running an online store is quite difficult!" Winarti exclaimed, referring to the "obligation" to provide detailed photos of her products, taken from many different angles. Fortunately, she has enough catalog photos already, which helped her set up the online store.
Successful online store aside, Winarti still maintains Kamalika Artprints' brick-and-mortar stores, although one of the stores in Bali is no longer open.
She said that having offline stores could accommodate customers who wanted to physically see the goods before buying, or exchange goods they had already bought. "Sometimes customers prefer to exchange goods at the physical store." says Winarti.
Your premium period will expire in 0 day(s)
close x
Subscribe to get unlimited access
Get 50% off now