Like many other fashion bonanzas around the world, the annual Indonesia Fashion Week (IFW) was affected by health and safety measures in light of the pandemic.
Twice, in fact. The Indonesian Fashion Designers and Entrepreneurs Association's (APPMI) fashion event was originally slated to be held in early April but was then pushed back to mid-October in the hope that the pandemic would have been controlled by then.
Unfortunately, the pandemic is still very much a part of our lives.
Still, the show must go on, as they say. And go on it will.
In a virtual press conference, fashion designer and IFW president Poppy Dharsono revealed the rocky road leading to the event, saying that the virtual edition was envisioned two months prior when it became apparent that an October date was not going to happen.
Instead of its usual haunt of the Jakarta Convention Center, the ninth iteration of IFW will now take place entirely online on YouTube from Nov. 14 to 15.
Like last year, the spotlight will still be on the culture of Kalimantan, titled "Tales of the Equator – Treasure of the Magnificent Borneo".
"Throughout the years, Indonesia Fashion Week has always highlighted other islands like Sumatra, Java and East Nusa Tenggara," said the APPMI chairwoman.
"Following the government's directive on the 10 priority tourist destinations, we tried to have the theme be in tune with their program, so that Indonesia Fashion Week can be enjoyed by fashion people and small and medium enterprises across Indonesia."
Parade: Unlike previous years, IFW 2020 will be held entirely online through YouTube. (JP/Wendra Ajistyatama )
Like its physical iterations, the virtual edition of IFW will still feature a lineup of fashion shows in the format of fashion films.
However, due to constraints that come with the unique situation of highlighting around 65 designers in a two-day virtual event, the total number of clothes showcased has been reduced. 
Whereas a normal show can feature up to 20 looks for each designer, the virtual event will only showcase five each.
"What's important is that the designer can still appear creatively, and that Indonesia Fashion Week can still provide 'color' to the designers' creations even though we are in the middle of a pandemic," Poppy said.
Along with the fashion films, IFW 2020 will also feature its usual programs, like the Young Fashion Designer Competition (IFYDC). 
The final will feature the works of 10 designers that will be judged by a panel that includes fashion photographer Jacky Suharto, designers Aam Kekean and Misan Kopaka and fashion blogger Ayla Dimitri.
The winners will receive scholarships to three fashion schools: Italian Fashion Institute in Jakarta, LaSalle College Jakarta and Koefia International Fashion & Arts Academy in Rome, Italy.
Beyond the clothes, IFW 2020 also highlighted how fashion can play a role in diplomacy, with two programs in particular highlighting its importance.
A series of interviews titled Fashion Diplomacy will discuss fashion as a cultural tool, with six diplomats providing their perspectives.
The diplomats are Russian Ambassador Lyudmila Vorobieva, Jordanian Ambassador Abdallah Abu Romman, Colombian Ambassador Juan Camilo Valencia, spouse of the Peruvian Ambassador Susan Santos de Cardenas, former Indonesian Ambassador to Ecuador Diennaryati Tjokrosuprihatono and director of the Italian Cultural Institute Maria Battaglia.
Meanwhile, a mini fashion showcase titled Poppy Dharsono & Friends will also feature several diplomatic figures clad in Poppy's designs.
They include Russian Ambassador Lyudmila Vorobieva, spouse of the Peruvian Ambassador Susan Santos de Cardenas, spouse of the Belgian Ambassador Consolate de Loecker-Manirariha, and spouse of Colombian Ambassador Natalia Paz Cabrera.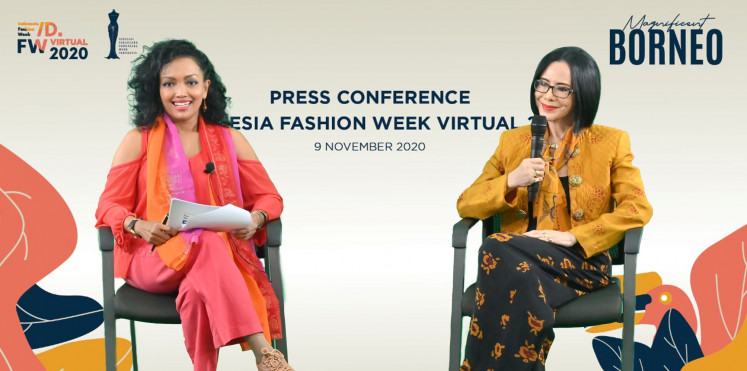 All smiles: Fashion designer and IFW president Poppy Dharsono (right) believes that fashion can be used as a tool for diplomacy. (Courtesy of Indonesia Fashion Week./-)
Poppy explained that while diplomacy usually entails talks of trade and politics, culture is also a major aspect.
"Fashion can be a tool for diplomacy. In the old days, we can see the personality of world leaders [through their clothes], like Bung Karno with his signature style, [Mahatma] Gandhi with his khadi, or Mao Ze Dong with his suits. […] These world leaders use fashion to show the world their charisma, identity and values," she told The Jakarta Post by phone. 
Using the former ambassador Diennarsyati's experience, Poppy noted the relatively unknown status of Indonesia in Ecuador, until Diennaryati started wearing national textiles like batik and ikat, which went on to be popular enough to increase awareness about Indonesian culture.
"I've heard that the number of Ecuadorian tourists to Indonesia increased as a result, which means that she has successfully employed the tools of fashion diplomacy to increase business and trade." (ste)
Your premium period will expire in 0 day(s)
close x
Subscribe to get unlimited access
Get 50% off now