Linda Stowers says she seeks to be meticulous in so many ways.
Her job as head abstracter at Muskogee Abstract and Title requires it.
"I have to calculate property sizes and determine whether or not a neighbor's boundary line clouds what I'm working on," Stowers said. "You have to be fairly good at algebra."
She said she must be meticulous while maintaining registration rolls for such Exchange Club of Muskogee events as Okie Jeep Jam and the Chili Cook-Off.
Stowers needs to be meticulous at knowing just the right time to photograph a shoreline sunset.
"I guess you could say I'm a little OCD on some things," Stowers said, laughing.
The Muskogee native has worked at the abstract company since she was a teen.
"They are a wonderful group of people," she said. "They're some of my best friends. My boss, Kris Morrow, is like family to me."
Stowers also got interested in photography as a teen.
"I saw a camera that I wanted and my father purchased it for me for my birthday, a Nikon 35 mm," she said. "Black and white photos were my favorite at first, until I got into sunsets and sunrises."
That was when cameras used film. Stowers said she held out on going digital for a long time.
"It just seemed nostalgic," she said, adding that she went digital when she discovered how many pictures she could take.
Stowers got involved with the Exchange Club in 2019. She said she enjoys working with other Exchange Club members and helping charities the Exchange Club supports. 
She also sells a line of nail polish strips called Shimmer in Style.
Stowers said her husband, Donald, is her "anchor and port in every storm."
"He is supportive of my involvement in Exchange Club and my extra businesses," she said.
Perfect places found for photos
A trip to Quartz Mountain in far southwest Oklahoma got Linda Stowers interested in landscape photography.
"I discovered this hidden gem in Oklahoma that no one ever talks about," she said, recalling beautiful trees and a lovely lake.
"The pictures when I got there were amazing," she said. "The deer just walk right up to you. They actually sell corn if you would like to feed the deer."
Stowers got photos of the sun gleaming off the rocks.
"You don't expect Oklahoma to look that way, but it does," she said. 
She now seeks information on other hidden Oklahoma gems.
"Every year, I get a bunch of brochures, and we pick a place and we go," she said. "We try to see as much of Oklahoma as possible."
Her favorite parks have been Lake Keystone for lakes and Broken Bow or Tenkiller for cabins.
"And if you're going for the sunrises and sunsets, Quartz Mountain," she said. 
"You don't have to go very far to find something wonderful," she said. "It's just beautiful. The colors are just amazing. You have the green trees and the sky, and you can actually climb the rocks to get a good picture."
Stowers said patience is the key to getting great sunrise/sunset photos.
"You have to be in the perfect spot at the perfect time," she said. "And get there early. That way, you can capture your shot as it is going down."
Keeping up with the times – old and new 
Stowers delves deep into history to build her abstracts.
"If there's an abstract that's been lost or never existed, I build it from statehood," she said.
The abstract contains every deed, mortgage, lien, probate, or divorce ever filed against the land or landowners, she said. 
"Oklahoma is an abstract state, meaning we have to go back further than other states," she said. "As a result, we have fewer claims on our title insurance. Other states only go back 30 years."
Stowers said she must go back "all the way to the beginning."
"Almost every piece of property in Muskogee County started with an Indian," Stowers said. "We have to track down whether they were Creek or Cherokee, what their percentage of blood was, or if they were a Freedman."
Stowers relies on a 100-year-old book listing the final Dawes Rolls of the Five Civilized Tribes. The list includes people's percentage of Indian blood and their roll number. The abstract company dates back to statehood.
"We have other documents that contain what property they were given," she said. "We have old maps back to statehood."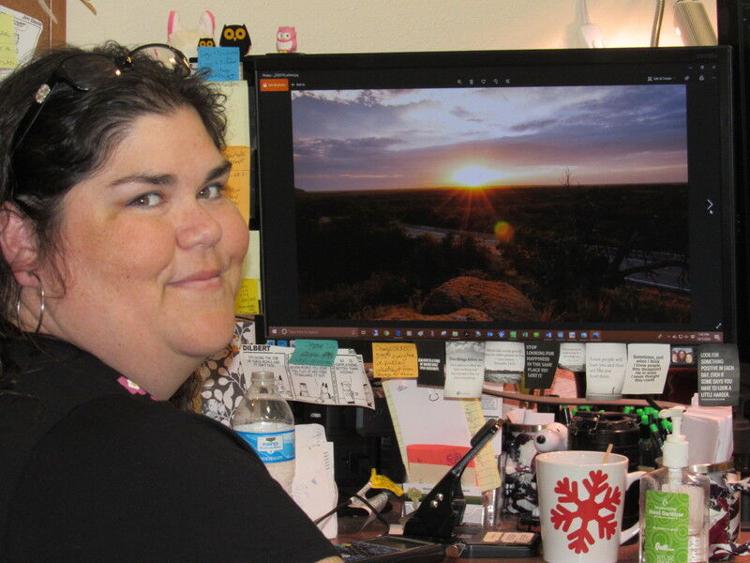 Finding a volunteer spot with Exchange Club
Stowers said her mother invited her to join the Exchange Club of Muskogee right before its 2019 Chili Cook-Off.
"They needed help and she thought I would be a good fit, and it turns out that I was a good fit," she said. "I've been off and running ever since."
She since has helped with two Exchange Club Jeep Jams, as well as what could have been the 2020 cook-off. The 2020 cook-off was canceled out of concern for COVID-19.
"At the cook-off, I was in charge of registration and vendors," she said. "The first cook teams started applying in January and they were slowly coming in. When COVID happened, they slowed down a little bit, and then we ended up having to cancel the cook-off."
Stowers said registrations for the second Okie Jeep Jam flooded in the day registration opened last summer.
"We ended up with 405 Jeeps coming to the event and more than that actually registered," she said.
She said her biggest challenge came on the day of the event when people checked in.
"You have to be meticulous, and the data has to be correct and match," she said.
Q and A
HOW DID YOU COME TO BE AN OKIE FROM MUSKOGEE?
"I was born here. My mom moved here from Texas when she was a kid. My dad moved here from Colorado. They met when they were in high school. Then, I was born.
WHAT DO YOU LIKE BEST ABOUT MUSKOGEE?
"The people. We have some really amazing people here. There's a lot happening here that people don't realize is happening. There's always something fun to do."
WHAT WOULD MAKE MUSKOGEE A BETTER PLACE TO LIVE?
"Better roads and more industry. If we had more industries come, that would be nice. We're already improving our schools, and I think that is fantastic, and that would improve Muskogee greatly."
WHAT PERSON IN MUSKOGEE DO YOU ADMIRE MOST?
"Cindy Kennedy, my mother. She's an amazing person. When she and my father split up, they mutually split. He was always in the picture, but she worked to make sure everything was provided for my brother and I. She's worked hard her entire life and she always made sure we were loved and taken care of. She's a professional, that's always worth admiring.
"The other lady is Shirley Hilton. She's one of the hardest working women I've met. She's a wonderful mom and a wonderful banker and a wonderful everything."
WHAT IS THE MOST MEMORABLE THING TO HAPPEN TO YOU IN MUSKOGEE?
"I got married at The Castle of Muskogee. It is a fantastic venue, and it was a lot of fun. We rented out the hall where they have the chess match and it was absolutely gorgeous. And we got to do the Hokey Pokey."
WHAT DO YOU DO IN YOUR SPARE TIME?
"Travel around to parks in Oklahoma. We like to camp. I like to take photographs of them."
HOW WOULD YOU SUM UP MUSKOGEE IN 25 WORDS OR LESS?
"Fantastic town with fantastic people."
Meet Linda Stowers
AGE: 38.
HOMETOWN: Muskogee.
EDUCATION: Creek Elementary; Alice Robertson Middle School; Muskogee High School, 2001; studied pharmacy and political science at Southwestern Oklahoma State University.
PROFESSION: Head abstracter at Muskogee Abstract and Title.
FAMILY: Husband, Donald; one cat, Luke. 
RELIGIOUS AFFILIATION: Christian.
HOBBIES: Photograph, painting, reading, cooking, gaming.