Fashion is one of those things that might seem trivial in a pandemic, but to borrow Meryl Streep's words as Miranda Priestly in The Devil Wears Prada, "That blue represents millions of dollars and countless jobs".
With the pandemic in full swing, the fashion industry has been in survival mode, as seen during the ninth edition of Indonesia Fashion Week (IFW) 2020, which represents not just the leading trends of the Indonesian fashion scene but also offers glimpses into next year's fashion trends.
The virtual event, held at its usual location, the Jakarta Convention Center in November, was aired on YouTube, where it can be rewatched again and again.
CELEBRATING INDONESIA
This year around, IFW 2020 put the spotlight on the culture and beauty of Kalimantan, taking on the theme "Tales of the Equator – Treasure of the Magnificent Borneo".
Standout looks included Cathrine Ambasari's black and red ensembles, which brought a hint of royal elegance through intricate embroidery and structured silhouettes. While plain red can be rather audacious on its own, the choice of a dark floral-patterned fabric provided a much needed balance.
Poppy Dharsono's classic menswear cuts also shone, utilizing classic simplicity to make the traditional textiles the star of the show. Severe but regal, with an impeccable fit that encapsulates the designer's longstanding career.
Of course, color-coded masks are almost de rigueur at this point, but Agnes Budisurya's incorporation of a face shield into an evening look was particularly interesting, by way of attaching the acrylic piece into a hood that is rather Grace Jones-esque.
For those into classic black, there's always Eddy Fa's gold-toned creations with an ethnic twist, or perhaps Zul Said's modern edgy glam looks with an understated statement piece for each look.
Meanwhile, Ida Royani's modest silhouettes were made prominent through strategic embroidery placements, ensuring a hint of drama without being too over the top.
The show must go on: The ninth edition of Indonesia Fashion Week traded the halls of Jakarta Convention Center for a virtual runway on YouTube. (Courtesy of Indonesia Fashion Week 2020/-)
BEYOND COUTURE
Though conversations around fashion are often centered around topics like the season's hottest hemline, fashion is also a tool for diplomacy, as it turns out.
Of course, talks of trade and business will likely come to mind, but fashion's cultural significance is certainly beneficial to forging relations between nations.
This is perhaps why IFW 2020 included a series of discussions titled Fashion Diplomacy, where fashion designer and IFW president Poppy Dharsono interviewed six diplomats for their perspectives.
The names included Russian Ambassador to Indonesia Lyudmila Vorobieva, Jordanian Ambassador to Indonesia Abdallah Abu Romman, Colombian Ambassador to Indonesia Juan Camilo Valencia, spouse of the Peruvian ambassador to Indonesia Susan Santos de Cardenas, former Indonesian ambassador to Ecuador Diennaryati Tjokrosuprihatono and director of the Italian Cultural Institute Maria Battaglia.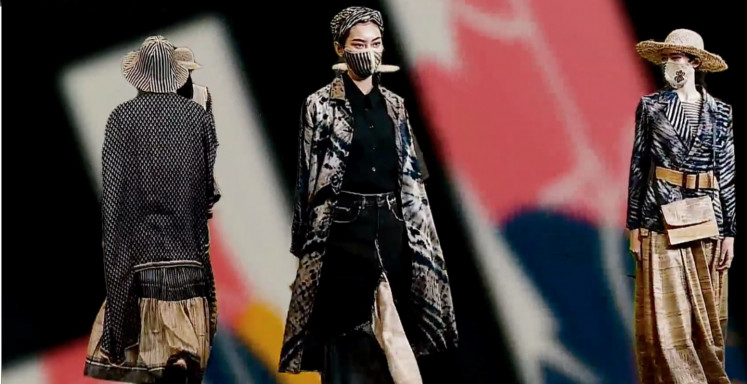 Game of tones: This year around, Indonesia Fashion Week 2020 only showcased five looks per designer, down from the usual 10 or 20. (Courtesy of Indonesia Fashion Week 2020/-)
In one segment, Diennaryati revealed that her own take on fashion diplomacy – wearing Indonesian textiles during her mission – was not actually planned from the start.
"As ambassador, we have to develop trading, investment and tourism. I was assigned to a country which did not know much about Indonesia, and if they do, it's either Bali or the [2004] tsunami," she said, noting that some even think Indonesia is located inside Singapore.
Still, she had one trick up her sleeve: fashion. While formal options for men are mostly limited to suits and ties, women can wear a litany of other apparels, which can be combined with Indonesian textiles in her arsenal of clothes.
"I then decided to do fashion diplomacy. I started by observing the clothes worn during meetings, and it was all black – the boldest they can go was red or white. Then, if I want eyes on me whenever I introduce myself, I had to look different, which is by wearing Indonesian products."
Whenever she would attend events, Diennaryati explained, people would often go up to her and ask where she was from, along with complimenting her style and asking for a photo together.
Another trick Diennaryati revealed was to style Indonesian textiles with accessories from the host culture, which she said provided a sense of respect as well.
Naturally, business cards were exchanged, and invitations were sent out. A network quickly formed, which she said was beneficial in building Indonesia's image.
She then explained that Indonesia was made up of diverse cultures, and a variety of textiles like the UNESCO-recognized batik, tenun ikat, songket (traditional gold-threaded woven fabric) and lurik (textile commonly featuring striped or checked motifs).
"I say to them, 'I wear things originating from different cultures aside from my own because we appreciate them all as ours'," Diennaryati said.
 "We appreciate diversity, and we appreciate the beauty of it. We appreciate ourselves, and we are proud of that."
A NEW FRONTIER
Due to social limitations preventing congregations of large crowds, IFW 2020 was not a physical affair like some shows, such as Milan Fashion Week in September. Instead, the entire event was virtual.
While virtual shows featuring live runways were seen in August's Revival Fashion Festival or November's Jakarta Fashion Week at Senayan City mall, IFW 2020's catwalks were prerecorded and edited into brief fashion films.
As the entire schedule was compacted into two days instead of the usual week, the number of looks for each of the 65 designers' collections also had to be cut down.
At five looks per designer, each segment was very much a fleeting presentation, giving viewers a relatively short amount of time to fully take in the designer's concept.
Of course, the pause and rewind buttons are definitely a boon, but there's simply no substitute for watching the shows live.
At times, the visual effects imposed on the green screen that served as the catwalk backdrop seemed awkward, even distracting at times.
It may not have been perfect, but given the situation, IFW 2020 was a show of strength that the Indonesian creative economy is alive and kicking despite the pandemic. (ste)
Your premium period will expire in 0 day(s)
close x
Subscribe to get unlimited access
Get 50% off now