Blame it on the rain, or rather the timing of the rain, but East Texas' fall colors have largely peaked.
Still, spots of beauty can be found around Longview's parks, on rural highways and in area state parks.
"We were looking good for about three weeks," said Steven Chamblee, executive director of the Longview Arboretum and Nature Center, which recently celebrated its first anniversary. Normally, East Texas would see a good six to eight weeks of colorful fall foliage, he said.
"Most of it depends on the weather … and it depends on how much rain," he continued. "We have had an almost powder dry fall, which has really wrecked a lot of our fall color. Yes, we irrigate, but there's nothing like rain. Irrigation doesn't do it like rain. Nobody does it like Mother Nature."
Longview's total rainfall for the year is about an inch below normal at 40.26 inches, said Chris Nuttall, a meteorologist with the National Weather Service in Shreveport. That's not so bad, he said, but since September, rainfall is 3 inches below normal and down 2.5 inches this month.
"The last couple of months have been relatively dry," Nuttall said. "Some of that was due to some of the tropical systems, some of the hurricanes that came up, and that didn't really affect the Longview area and much of Northeast Texas very much."
The area has a small chance of rain Sunday, again on Tuesday night and then Friday and Saturday after Thanksgiving.
Rain could perk some of the colors back up, Chamblee said Tuesday, as he pointed out some of the remaining pops of color in the arboretum. The bald cypress trees have turned a "rust" color, he said.
"They will drop their leaves, but they kind of go rust colored," he said. "I think it's nice, but it depends on who you are."
Before the arboretum's official construction, a sweet gum tree growing on the property there was pinned down by another tree that fell, but it kept growing.
"Sweet gums are famous for having everything from yellow, to gold, orange, red and purple leaves, sometimes on the same tree," he said, adding that he hopes to intentionally place a bench with the fallen tree's branches to create a nice seating area and photo opportunity.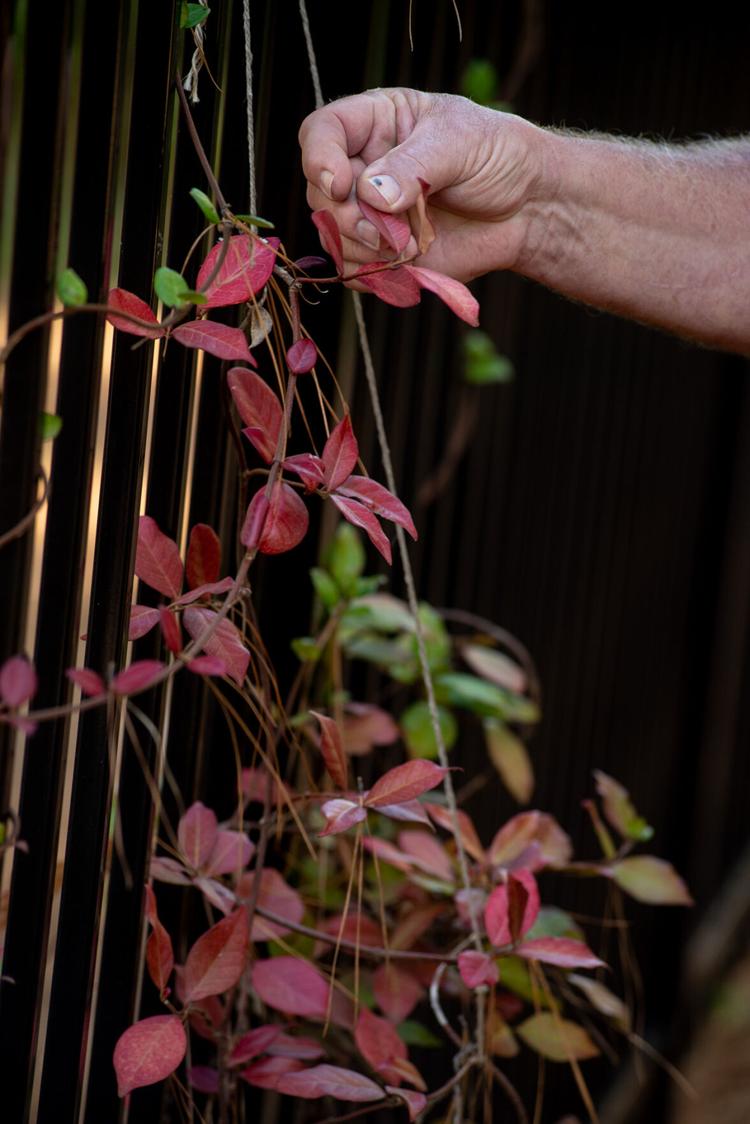 "Sometimes, the best fall color you'll see is poison ivy," Chamblee said, but he also pointed to Confederate jasmine that was planted in the arboretum and whose leaves had a turned a deep red along the fence were it was growing.
An American beautyberry shrub in the arboretum was flashing its fall color — bright magenta berries revealed after dropping its leaves.
And nearby, at the Maude Cobb Convention and Activity Center's J.R. Curtis Jr. Memorial Garden for the Blind, a Japanese persimmon tree was showing off orange leaves, and fruit, as bees still buzzed around flowers in the garden there.
Longview's trails, too, offer peeks at color. Ken Davis, maintenance supervision technician for the city's parks department who has a longtime background in horticulture, said his favorite tree this time of year is the black gum.
"It's red in color right now. It's normally your first one to turn red, and just this time of year is my favorite time of year," with leaves blowing on the ground and a wide range of colors, Davis said.
"I believe that our trails in Longview are as top of the line as they can be. They're spectacular. I think we've got the best parks around, the best trails," he said Wednesday. "Just this morning, I was on the Boorman Trail, which runs pretty much from Highway 80 all the way to the loop, and it has beautiful fall color."
Sugar maples, sweet gums, coral bark Japanese maple, birch trees and the Chinese tallow or popcorn tree — they're all showing off colors on the Cargill, Akin and Boorman trails, for instance.
"The great thing about East Texas is we've always got a great backdrop for everything, too, with the pine trees," Davis said.